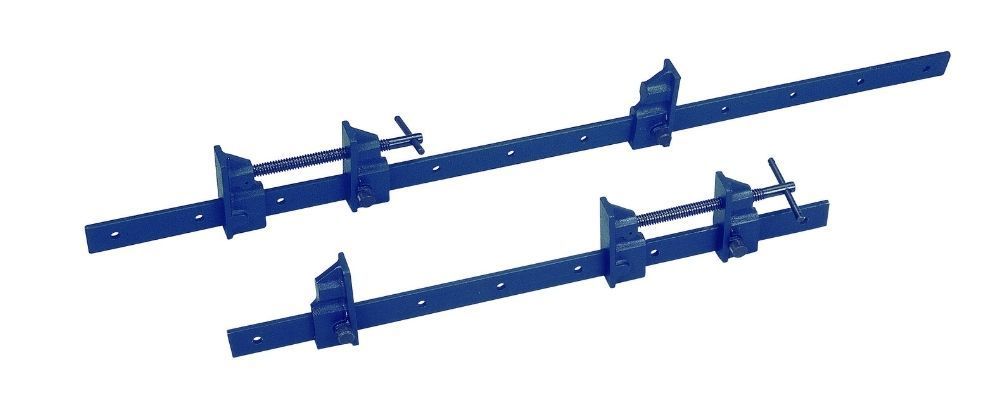 What is a bar clamp and it's top uses?
A bar clamp is made up of a long, metal bar and is designed to hold large and heavy workpieces. Due to the strength of the steel bar, and ability to withhold the holding pressure, it is capable of heavy-duty clamping. A bar clamp is also called a speed clamp or F clamp as its shape resembles the character F.


A bar clamp is mainly used in woodworking or metalworking projects to keep large pieces of wood or metal securely in place to join them together permanently. Speed clamps hold the workpieces tightly, so that they do not move around and create problems for you while you are working on them. The length of the bar allows the bar clamp to easily hold long or wide workpieces in its jaws.


A bar clamp is made up of two horizontal bars joined together by a long vertical bar. A large screw is placed on the lower horizontal bar thus allowing the clamps to be adjusted and tightened to hold the wooden or metal pieces firmly.

While using a bar clamp, the fixed jaw is laid against one side piece to be secured, and the moveable jaw known as the head jaw, that is the bottom part of the clamp, is tightened to the opposite side of the piece. The head jaw could also be adjusted by a large threaded screw by simply turning the screw.

There are different types of bar clamps available in the market, including sash clamps, quick-release bar clamps, pipe clamps, and T-bar clamps. Bar Clamps come in sizes ranging from 4, 6, 7.5, 12, 24, 36, 40, 48 inch lengths. Main usage of Bar clamps are in woodworking projects like doors, tabletops, furniture, and can be used in welding projects as well.

One major downside of bar clamps is that they are not always practical for smaller clamping applications. While working in a limited space, the bar clamp may prove too long, for small or workpieces.

Also bar clamps are considered to be quite expensive, but never make a mistake of buying cheaper bar clamps, as that might result in unnecessary issues giving more problems. Find a wide range of high quality bar clamps here.

It is very important to keep your bar clamps clean. It increases the efficiency and life of your machine. After using the bar clamp, wipe off the dust and debris using a dry cloth. Regular oiling of the moving parts helps prevent rust.

As a conclusion, bar clamps help keep pieces of wood or metal securely in place so that you can join them together. It ensures that the pieces are tightened securely so that they do not move around and cause you trouble while you work on them.

If you are considering getting a durable bar clamp for yourself, click here to explore a wide range of GROZ world class bar clamps. These are designed for applications that require extra resilience under extreme pressure. If you are not satisfied for any reason products may be returned within 30 days of shipment for a full credit or exchange (provided the product is undamaged). GET FREE SHIPPING ON ORDERS OVER $100.00! USE CODEE: FREESHIP