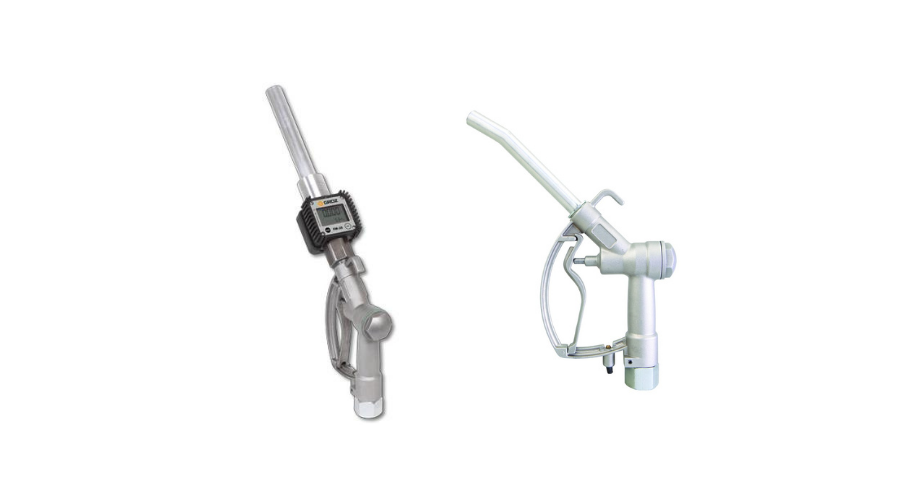 Selecting Best Fuel Nozzle for your usage
Fuel Nozzles are a very crucial part of any fuel dispensing system. On gas stations, you have seen Fuel Nozzles attached to the pump with flexible hoses, so they can easily reach the vehicle's fuel inlet. Fuel Nozzles are usually color-coded to indicate which grade of fuel they dispense. This color-coding differs between countries and even retailers.
When selecting a fuel dispensing nozzle you need to decide whether you require an automatic or a manual nozzle. An automatic fuel pump nozzle cuts off the fuel supply when the vehicle being refuelled becomes full, preventing further fuel from being dispensed and an overfill from occurring. On the other hand, a manual refuelling nozzle needs human attention while filling the fuel. It is a cheaper solution and fits well when the user is not much concerned with automatic shut off. Manual fuel nozzles are quite popular within the agricultural and mining market.
GROZ USA offers a large range of fuel dispensing nozzles for the refuelling of vehicles and the general transfer of petrol/diesel from one container to another; for example for filling a fuel storage tank from a delivery tanker. Included in our fuel dispensing nozzle range are the
FUEL CONTROL DIESEL NOZZLE - AUTOMATIC
; an automatic option that is popular within the agricultural and plant markets, and the
MANUAL FUEL NOZZLE FOR DEF/ADBLUE/UREA
; For use with DEF, adblue, urea, windshield fluids & other water-based media. This is designed for minimal back pressure & reduction in flow.
Also included in our range are high flow fuel nozzles specially designed for refuelling larger vehicles and machinery and models with in built flow meters for identifying the amount of fluid dispensed. Check out our bestseller "
MANUAL FUEL NOZZLE WITH SWIVEL AT INLET & DIGITAL TURBINE METER AT OUTLET
". It should also be noted that whilst some fuel dispensing nozzles work on both gravity and pump installations, there are specially identified fuel pump nozzles and gravity fed nozzles.
For the refuelling of large plant and construction equipment, we can also offer specially designed high speed diesel fuel nozzles that have a very high flow capacity. One of our bestsellers is MANUAL FUEL NOZZLE WITH SWIVEL, INLET 1" NPT, OUTLET OD 1". It comes with a continuous flow switch for unattended dispensing. This is designed for minimal back pressure. This fuel nozzle is available in a choice of straight or curved spout, both with and without swivel.
Manual fuel nozzles are a cheaper solution for the refuelling of vehicles/machinery in comparison to automatic nozzles. As they do not shut off when the tank being refilled is full, they can result in fuel spilling out of the fill point, but remain popular in certain markets such as agriculture and construction due to their price. Our range of manual diesel nozzles are available in different flow rates so the speed of dispensing can be matched to the size of the tank being refilled.
If you are considering getting a durable fuel dispensing nozzle for yourself, click here to explore a wide range of
GROZ world class fuel nozzles
. These are designed for applications that require extra resilience under extreme pressure. If you are not satisfied for any reason products may be returned within 30 days of shipment for a full credit or exchange (provided the product is undamaged). GET FREE SHIPPING ON ORDERS OVER $100.00! USE CODEE: FREESHIP